Magnum, CIM Close $390M Loan for Verizon Building Condo Conversion
---
---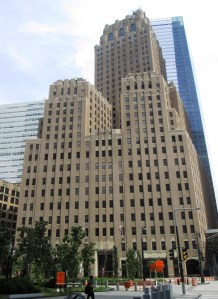 A partnership of Ben Shaoul and Los Angeles-based CIM Group closed on $390 million they will use to convert a Lower Manhattan office building into fancy condominiums, Mortgage Observer has learned.
A source said the pair obtained capital from New York-based iStar Financial and Stamford-based H/2 Capital to facilitate the construction of 166 residential condos atop retail and offices at 140 West Street, which has been rebranded as 100 Barclay Street.
The units will be built in the top 22 floors of the 31-story building, which sits at the corner of Vesey Street about a block from 1 World Trade Center.
The three-year loan is Libor-based, the source said.
Mr. Shaoul's Magnum Real Estate bought the building for $274 million in 2013, according to previous reports, and later picked up the retail in the base of the building for $40 million, in late 2014.
Units start at $2 million and sales began last September, according to a report from Bloomberg News. The two-, three-, four- and five-bedroom units will feature large living spaces and two duplex penthouse units will crown the building.
Plans call for a pool, gym, lounge and wine bar, Bloomberg said.
Verizon will continue to operate offices in 10 lower floors at the building. The firm has been spinning off its real estate in recent years as part of a cost-cutting measure, reports show.
Aaron Appel and Michael Diaz of JLL handled the transaction, the source said. A representative for JLL was not available for comment.
Mr. Shaoul confirmed that the deal closed but declined to provide further details. iStar and CIM Group representatives did not return calls and H/2 declined to comment on the deal.