Bible Society Sells Columbus Circle Building to AvalonBay for $300M
---
---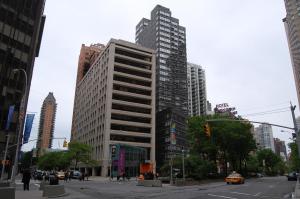 After nearly 50 years of ownership, American Bible Society has sold its Columbus Circle headquarters to equity real estate investment trust AvalonBay for $300 million, according to a press release issued by Cushman & Wakefield, which brokered the deal for both sides.
American Bible Society purchased the 49-year-old building at 1865 Broadway between West 61st and West 62nd Streets for $5.5 million in 1966, according to the bible society.
The 12-story building comprises 265,000 square feet and sits just a block from Central Park. American Bible Society hired C&W's Helen Hwang, Nat Rockett, Steve Kohn, Karen Wiedenmann and Brian Szczapa last March to market the site.
"The goal of this sale was to capitalize on the long-term investment American Bible Society has made in the property in order to fund future ministry efforts," according to remarks by President and Chief Executive Officer of the American Bible Society Roy Peterson, provided to Commercial Observer.
The Wall Street Journal, which first reported the deal, said 150 investors  expressed interest in the property, and there were 25 bids for it. AvalonBay plans on razing the building and constructing a luxury residential edifice as well as retail space, the Journal noted.
With the sale and a move to Pennsylvania,  the Christian ministry can bring together staff from its New York City and Valley Forge, Penn., offices, as well as take advantage of the affordability and livability of the Philadelphia, according to the ministry's press release.
"Cushman & Wakefield worked with American Bible Society to explore eight American cities including remaining in New York City," Heather Sloan of C&W, who was part of the team representing the society in the Philadelphia deal, said in prepared remarks. "After exhaustive research, Philadelphia was chosen for quality of life, historical significance and next millennium opportunities." Representatives from AvalonBay declined to comment on the deal.
A spokesman for C&W confirmed that the deal closed last week, but declined to comment further.
The bible society's new global headquarters will be at 401 Market Street in Philadelphia's historic district, where the society has signed a long-term lease for 10,000 square feet on the 8th and 9th floors.  The society may also create a bible discovery center and conference center on the first floor of the building, which is also home to Wells Fargo.