The New Whitney at 99 Gansevoort Street
---
---
The Whitney Museum of American Art's move to a Meatpacking District site at 99 Gansevoort Street between the High Line and the Hudson River will be complete when the new stunner designed by Renzo Piano opens to the public on May 1. The building at Washington and Gansevoort Streets represents a return from the Upper East Side to the Midtown South area for the institution founded in Greenwich Village in 1930 by Gertrude Vanderbilt Whitney. (The Metropolitan Museum of Art will have programming at the Whitney's former uptown home for at least eight years after the new museum opens). With 50,000 square feet of indoor gallery space and 13,000 square feet of outdoor exhibition areas, the new Whitney will boast "the first comprehensive view of its unsurpassed collection of modern and contemporary American art," according to the museum's website.
But the $422 million structure, which sits on land the cultural organization purchased from the city for $18 million in 2011, will be more than just a museum. The museum's staff now keeps office space on the third and fourth floors, and the ground floor will feature a retail shop and a restaurant by Danny Meyer's Union Square Hospitality Group. Mr. Meyer's group will operate a top-floor café on site, and the museum building will also hold a 170-seat theater and a study center. And any visitors to the High Line will be able to walk steps away to a covered 8,500-square-foot outdoor public plaza that museum officials call "The Largo."
With the project approaching completion, Andrew Thomann, the senior project manager for the new Whitney's construction contractor, Turner Construction, and Nat Oppenheimer, an executive vice president for structural engineering firm Robert Silman Associates, discussed the new building, which broke ground in May 2011, with Commercial Observer.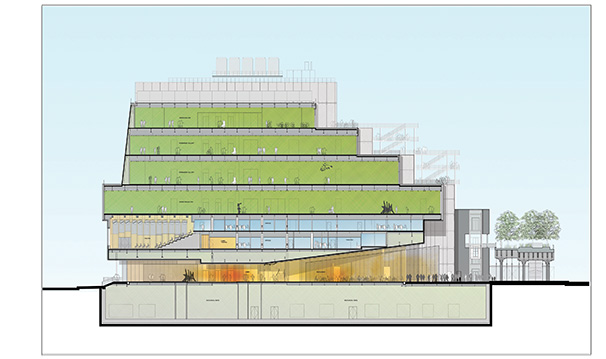 "Museums are inherently difficult just by the virtue of the physical space and also by the environmental requirements that need to be met before the art comes in," Mr. Thomann said. "As the building comes live, and, just before the art is coming in, you have to make sure the mechanical systems are tight. Those exacting details make it challenging."
Superstorm Sandy arrived in October 2012 just as the team had topped off the building's steel skeleton. A deluge of 6.5 million gallons of water poured into the cellar. "The building needed to be protected for any superstorms or hurricanes," Mr. Thomann said. "The team devised a series of floodgates on the West Side facing the Hudson. One of these is around 14,000 pounds at the loading dock. The company that fabricated that gate fabricates doors for U.S. Navy destroyers."
The building's location near the waters of the Hudson certainly poses complications, Mr. Oppenheimer said. "There's huge water pressure that wants to push the building up," he noted. "Various foundation elements are meant to hold the building down against the water pressure that's pushing up."
And the shape of the property carries its own difficulties, Mr. Oppenheimer added. "The site is a fairly difficult site," he noted. "It slopes dramatically underground. You don't see it on the sidewalk. The soil that we need to rely on slopes dramatically from the east to the west."
But Whitney patrons will notice a distinctive design once the building opens this spring, Mr. Thomann said. "What's interesting about this is the unique geometry, the high attention to detail," he said. "As you encounter the museum, there's something different at every turn."