Firstlight Fiber Joins Connection Hub at 325 Hudson
---
---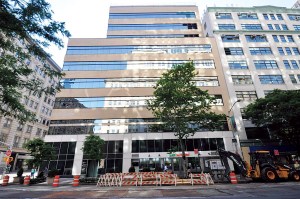 Albany-based FirstLight Fiber is joining the ranks of fiber providers that establish a connection point at 325 Hudson Street. The famed 325 Hudson building has become a hot spot for telecommunications companies looking to offer or expand services to businesses in the New York City area. The 240,000-square-foot, 10-story location is wired with the latest technology needed to run an advanced server.
The move will allow FirstLight to expand its business and boost its market share in the city. "FirstLight's growth has necessitated the need for a greater presence in New York City, and locating our point of presence at 325 Hudson was a natural choice, since it enables convenient access to the major regional, national and international carriers that we work with," James Capuano, the chief of network operations for FirstLight, said in a statement.
FirstLight, which is owned by a Boston-based private equity firm, primarily operates in upstate New York, Vermont and Massachusetts. The company provides its customers with up to 100 Gbps of connectivity, including advanced telecommunication services, and boasts about 215,000 miles of fiber.