New York Methodist Hospital Moves Into MetroTech Space
---
---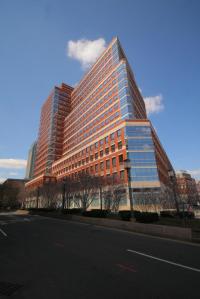 New York Methodist Hospital, in need of more space for its administrative duties, has signed a sublease at 15 MetroTech Center in Downtown Brooklyn to increase these departments' capacities.
The sublease for the entire 10th floor of the building, which includes 35,145 square feet, is nearly six years. The hospital will be taking space previously occupied by Anthem (formerly WellPoint), a healthcare administration company. It was signed on Oct. 23 and the hospital moved into its new space Nov. 1. The building is owned by Forest City Myrtle Associates LLC, a subsidiary of Forest City Ratner.
Anthem, the sublandlord, was represented by Cushman & Wakefield's Joseph Cirone in the transaction. The company has been at 15 MetroTech Center since 2002, but was looking to downsize due to excess space.
New York Methodist Hospital was represented by Joseph P. Day Realty Corp.'s Craig S. Berman and Ryan Herzich.
"The deal didn't make us sick," joked Mr. Herzich. "It's a great building with the highest class amenities and the whole plaza is a paradigm of the Brooklyn boom and the level of quality being provided there."
Mr. Herzich also mentioned there are a number of building plaza amenities, including security and checkpoint access.
A spokesman for Cushman & Wakefield did not immediately respond with a request for comment.
Asking rent was $36 per square feet.
The property at 15 MetroTech Center is home to the Urban Future Lab operated by New York University's School of Engineering. The Brooklyn Nets and Tough Mudder also have space in the 19-floor building.