Blackstone Lends $85M On Tavros' Meatpacking Buy
---
---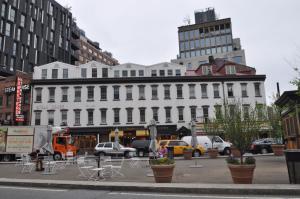 A joint venture between Tavros Capital and Arel Capital bought three Meatpacking District properties—including one with the potential to become a global flagship store—with $85 million from Blackstone Mortgage Trust.
The three properties, on 14th Street, 15th Street and Ninth Avenue, cost a total of $105 million, confirmed Nicholas Silvers, a co-founder of New York-based Tavros, a developer and real estate investment manager. His firm also nabbed development rights along 15th Street, though it is not clear what, if anything, the firm will build with them. 
But even as is the parcels are a lucrative investment, with rents in the neighborhood set to soar due to features like the High Line, Chelsea Market and the new Whitney Museum.
"It's a world class asset in a tremendous market," Mr. Silvers said of the three buildings, adding that he considers the neighborhood "the epicenter for development," in Lower Manhattan.
HFF handled the transaction, with managing director Steven Klein and director Jennifer Keller representing the borrower. A Blackstone representative confirmed the details of the transaction.
In addition to retail already filled by skincare purveyor L'Occitane, trendy restaurant Diner, and Solstice Sunglasses, the 14th Street building holds a 7,500-square foot vacant space, which the firm has hired retail specialist RKF to let. (Comedy club Comix used to be in that space and closed in 2011).
"It's the opportunity to create a flagship," right near the ostentatiously well performing Ninth Avenue Apple store, Mr. Silvers said. The process of finding the right tenant and setting up the space might take a year or two, however, he said.
So it helps that the two-year, fixed-rate loan from Blackstone has three one-year extension options, according to Mr. Silvers.
The 82 residential rentals in the three properties purchased are studio, one- and two-bedroom units and have J-51 tax abatements "burning off over the next 18 months," according to Mr. Silvers. (J-51s are used to incentivize renovations but mean that rent-regulated apartments at buildings that have used them must remain regulated for a certain period).
The plots include 44-54 Ninth Avenue, 351-355 West 14th Street and 362-364 West 15th Street.
The seller was a Vectra Management Group, according to records filed with the city. The Real Deal broke news that the sale was in contract earlier this year.
"The in-place vacancy and below market rents in both the residential and retail components of the transaction presented the borrower with a very appealing and unique opportunity," Mr. Klein said in a statement provided exclusively to MO.
Two years ago, Tavros purchased the Chelsea Muse, a mixed-use building at 537 West 27th Street, for $27.5 million, according to reports.