Midtown's Tower 52 Secures Five Separate Leases
---
---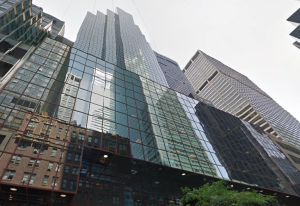 Tower 52, a Midtown office building at 150 East 52nd Street, has secured five leases that total more than 23,000 square feet.
Situs Group, a current tenant, is renewing and expanding its space on the fourth floor. The company initially had 4,615 square feet but now will enjoy 9,987 square feet of space. CBRE's Joseph Fabrizi and Arkady Smolyansky represented the tenant in this deal.
Bluewater Worldwide will relocate from 320 Park Avenue to 3,801 square feet on Tower 52's 28th floor. Cushman & Wakefield's Robert Ballard and Omar Farooq represented the tenant.
Ergoteles Capital, represented by Neil King and Jaclyn Marshall of CBRE, signed a new lease for 3,719 square feet on the 26th floor.
Bioharvest signed a new lease for space on the 23rd floor totaling 2,954 square feet. The deal was orchestrated directly with the owner.
GP Investments, represented by CBRE's Sam Seiler and Sinclair Li, signed a new lease for 2,736 square feet of space on the fifth floor.
"Tenants are attracted to Tower 52 because the building is situated in a great Midtown location in the Plaza District and conveniently near Grand Central Terminal, one of Manhattan's main transportation hubs," said Cushman & Wakefield's Harry F. Blair in a press release. Mr. Blair and Sean N. Kearns represented building owner Princeton International Properties during the transactions.  Cushman & Wakefield is the exclusive leasing agent for the building.
Princeton International Properties also has commercial buildings at 104 West 40th Street, 90 Broad Street, 232 Madison Avenue and 650 First Avenue in its portfolio.