'Last Call' Nears at TGI Fridays Union Square [Updated]
---
---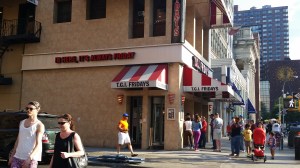 Within the next few weeks, the building housing TGI Fridays in Union Square will be put on the market, marking the impending closure of that location of the global eatery known for its collection of bric-a-brac, Commercial Observer has learned.
The full-building Union Square Fridays, at 34 Union Square East at 16th Street, hasn't fared very well and is just breaking even after four years in business, said proprietor Dennis Riese, the chairman of the board and chief executive officer of The Riese Organization, which owns the license for Fridays in Manhattan.
"In some parts of town it doesn't compete as well," Mr. Riese said. "Union Square is so hot down there these days with real quality restaurants it just doesn't compete well."
Mr. Riese hasn't picked a brokerage for the job yet. He expects to put the building on the market for an annual rent of $2 million, according to Mark Stempel, vice president of real estate at the Riese Organization.
Since 1986, The Riese Organization has owned a license in perpetuity for Fridays spanning a seven-mile radius from Columbus Circle.
If he could do it over again, Mr. Riese said after buying the 6,250-square-foot building (plus 3,125 square feet for storage and kitchen in the basement) for $15.3 million at the end of 2009, he would have dedicated the second floor to Fridays and rented out the first floor to a third-party tenant.
"I've opened and closed many through the years," Mr. Riese said. "Now I have eight open."
Mr. Riese is seriously considering opening a Fridays in Murray Hill.
Murray Hill's Fridays would be the first effort to go in "a new direction to try to do neighborhood smaller ones," Mr. Riese said.
The Riese Organization is planning to build a two- or three-story, 25,000-square-foot retail and restaurant structure spanning six contiguous lots it owns on 34th Street and Third Avenue, and if the company can't lease the whole structure in one fell swoop, it will open a 6,000-square-foot Fridays on the second floor, Mr. Riese said.
| | |
| --- | --- |
| "In some parts of town it doesn't compete as well. Union Square is so hot down there these days with real quality restaurants it just doesn't compete well." | |
"It's a very young area," he said. "To that crowd Friday's is still relevant."
As of December 2012, there were more than 900 restaurants in 59 countries.
The first Fridays opened in 1965 on 63rd Street and First Avenue as the hotspot for singles (it closed in 1994) and it has been trying for a long time to revamp its kitschy, cheesy image (remember the suspenders and novelty buttons for uniforms and antiques for décor?), remodeling some of the restaurants and tweaking its logo last year. This summer TGI Fridays established a "Summer of Fridays" road tour, a food truck touring the country introducing its new menu at festivals.
In May, hospitality and travel company Carlson sold the TGI Fridays restaurant chain, which it owned for nearly 40 years, to New York-based private equity firms Sentinel Capital Partners and TriArtisan Capital Partners.
Mr. Riese is not anticipating push-back from the community in Murray Hill if his company moves forward with a Fridays.
"We have an excellent record," he assured. "We're not a nightclub business."
Should Fridays go in the new Murray Hill building, so would FatBurger. The L.A.-based burger chain has a franchise agreement with The Riese Organization and already has a home at 509 Third Avenue.
"We've had a lot of success putting Fridays on the second floor with just a store on the ground floor for access," Mr. Riese said. "We could have prominent signage that way and not take up the most exciting space." Then the company could rent to third-party tenants on the ground floor.
The Riese Organization filed an application for a permit with the Department of Buildings last week to demolish 209 and 211 East 34th Street. The company bought 207, 209 and 211 East 34th Street for $21 million in January, and has owned 507, 509 and 511 Third Avenue since 1997.
But before deciding to go forward with a Fridays for the new Murray Hill retail and restaurant center, Mr. Riese said, "We're going to market it out to the retail community. What we would normally do is bring it to market as a vanilla box and see what the market tends to bear…"
Update: This story was edited to clarify that the Union Square TGI Fridays would be available for lease, not sale.