Bronxdale Multifamily Sells for $16.5M
---
---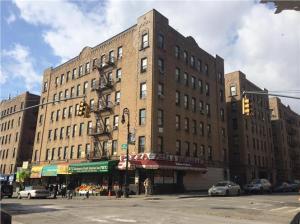 Marlin Management of NY purchased an 86-unit multifamily building with 6,000 square feet of retail space at 2141 Holland Avenue in the Bronxdale area of the Bronx for $16.5 million in a transaction that closed July 28, according to public records.
Marcus & Millichap broker Marco Lala negotiated the sale on behalf of longtime owner Monad Realty, a company owned by a retired police officer who now lives in Florida and made a smart decision not to sell a few years ago.
"We had this sold six or seven years ago," Mr. Lala said. "He probably made $1 million a year by keeping it off the market. He decided it was the right time to sell."
The 6-floor structure that's on the corner of Holland Avenue and Lydig Avenue and adjacent to the White Plains Road Business Improvement District sits just three blocks from the subway and features 8 retail spaces, 42 security cameras, a refurbished elevator and a laundry room.
"The property itself is in a very favorable location," Mr. Lala said. "Very rarely do these types of assets come on the market in this location."