Restaurant, Employees Taking on Giant Brookfield
---
---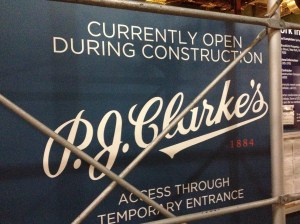 Employees of P.J. Clarke's, the steaks and chops chain whose owners slapped Brookfield Office Properties subsidiary WFP Retail Co. with a $40 million lawsuit last month, are digging their heels in against a landlord they say is ruining their business at 4 World Financial Center.
The Battery Park City restaurant's more than 75 employees are raging about the constant jackhammer noise in the bar, the rotating temporary entrance in front of the eatery and the scaffolding that's blocked off parts of the patio adjacent to the Hudson River, and with primary owners Phil Scotti and Arnold Penner alleging business has fallen by 50 percent since construction started at Brookfield Place two years ago, the workers expressed solidarity during a rally for employees of the seven-location chain Wednesday night.
"I've seen it before the recession, after the recession and now through the Brookfield-imposed recession," said David Meyer, 33, the restaurant's manager for seven years, who says the conditions have scared away regulars. "We don't see them back. The amount of familiar faces coming down here has diminished."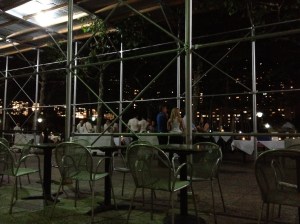 Mr. Meyer, investor Tommy Boyan and the chain's executive chef, Mike DiFonzio, called on the roughly 100 employees at the gathering to show a strong united front against their landlord, with Mr. DiFonzio pulling a $1,000 donation to the restaurant's legal fund from his own pocket to the cheers of the staff. Business began declining around the time potential customers started navigating a snaking route along makeshift corridors in unfinished Brookfield Place to locate the restaurant, say employees, who are serving specials called the "Renovation Rebate" and the "Construction Combo."
"I have so much love for this place; this place is like my second home," said waiter Salvador Chiquillo, 26, a six-year employee from Jackson Heights who said he had taken home $15.75 in tips from his lunch shift earlier that day. "People don't want to have a $40 steak on a construction site."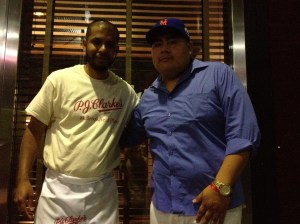 Brookfield's actions represent a calculated effort to push the eatery out of the location for a more-upscale tenant, representatives for the restaurant argue. Political consulting firm Sheinkopf Communications is circulating protest postcards addressed to Brookfield and calling on concerned workers and patrons to sign an online petition.
A spokesman for Brookfield, which controls more than 18 million square feet of office space and over 679,000 square feet of retail sites in its New York City portfolio, according to listings on the company's website, declined to comment, citing company policy on pending litigation. The company opened nearby Hudson Eats, a 35,000-square-foot, 600-seat gourmet food hall, last month.