EMP, Empire Capital Buy FiDi Building, Prep to Launch Condo Sales [Updated]
---
---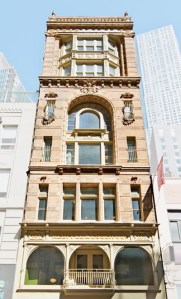 In its first development project, EMP Capital Group purchased the Keuffel and Esser building and will soon launch sales at the residential condominium, the developer told Commercial Observer. EMP Capital Group bought the building in conjunction with developer Empire Capital Holdings.
Elie Pariente, the principal at EMP, said his firm has been doing a lot of work on the former factory building at 127 Fulton Street, also known as 42 Ann Street, prior to its closing on June 12. EMP paid $15.35 million to a group of investors, 127 Fulton LLC, to acquire the building, public documents indicate.
"We went into contract and did a lot of the work while under contract," Mr. Pariente said. The contract was signed on June 5, 2013. The deal appeared in property records last Friday.
The elevator building will have seven full-floor units with prices starting at $3.495 million. The penthouse is a little bigger at 3,500 square feet with a $5.5 million price tag. Common charges will be below $.30 per square foot. The units should be complete soon and the facade is already finished. The developer is awaiting the final attorney general approval for the offering plan.
Colkitt&Co. is the architect on the project which has high-end finishes. There is a 421-g tax incentive in place for another 12 years, Mr. Pariente noted.
127 Fulton LLC bought the building for $8.5 million in 2005, The Real Deal previously reported.
While EMP has "had positions with other developers, this is EMP's first project," Mr. Pariente said.
As the president and CEO of Synergy brokerage, Mr. Pariente will handle selling the condo units.
Update: This story was edited to include the second purchaser, Empire Capital Holdings.