NYCB Lends on B&H Photo's Williamsburg Luxury Apartment Property
---
---
New York Community Bank originated a $107 million loan to refinance existing debt and provide new funds on a luxury rental property at 101 Bedford Avenue in Williamsburg, Brooklyn, according to city records filed last Friday. The property was co-developed by local property owner Halcyon Management Group and the New York camera store B&H Photo Video.
The loan, made out to 95 Bedford LLC, closed on June 11 and was originated on a 15-year self-liquidating basis, records show. The refinancing portion of the debt includes a "consolidation, modification and extension agreement," according to the loan document.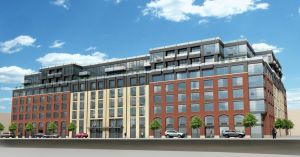 The unpaid principal of the original first mortgage from TD Bank was $43.9 million prior to the refinancing, while the unpaid principal of the second mortgage, also from TD Bank, was $3.1 million, the document states. The new portion of debt is for $60 million.
The borrowers did not return requests for comment on the intended use of those proceeds, while a spokesperson for the bank declined to comment, citing client confidentiality.
The developers bought three parcels of vacant land at the corner of North 12th Street, where the finished residential rental now stands, for $13.4 million in June 2003, city records show. Construction on 101 Bedford began in 2010 and ended in 2013, according to previous news reports.
The 351-unit rental property, designed by the glass and steel master Karl Fischer, contains four connected eight-story buildings, including two retail units and 202 garage parking spaces. The apartment complex's hipster-tailored amenities include a game room, a wine room (with refrigerated lockers), a creative arts studio, an indoor swimming pool, saunas and a pet cleaning station.
Studio units rent for $2,595, one-bedroom units rent for $3,295 and two-bedroom units rent for $6,495, according to the property's website. The property is 100 percent leased, a spokesperson for Halcyon Management said.
The retail space includes a high-end coffee shop called The Bean.