Human Rights First Inks FiDi Lease
---
---
Human Rights First will be moving its New York office to the Financial District in late August, The Wall Street Journal first reported.
The nonprofit, nonpartisan group, lured by incentives as part of the city's Commercial Revitalization Program, will occupy 17,900 square feet on the 31st and 32nd floors of the 33-story building at 75 Broad Street. The program is intended to lure firms to lease and renovate space in older-vintage downtown commercial buildings.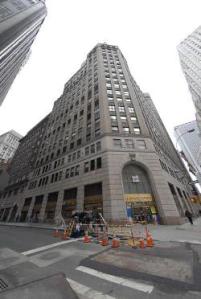 "Economically it's turned out to be a wonderful deal for them," said Carri Lyon of Cushman & Wakefield. "And the main thing is that every dollar they save can go back into their mission."
Ms. Lyon represented the tenant along with Robert Lowe and Kevin Daly. Frank Cento, also of Cushman & Wakefield, represented the landlord, JEMB Realty.
Human Rights First is jointly headquartered in New York and in Washington, D.C. The group will relocate its New York location from their previous space at 333 Seventh Avenue in Midtown South. The new space will serve about 70 workers on average between part and full time employees and volunteers, Ms. Lyon said.
The new 10-year lease will include some free rent and other benefits totaling about $180,000, the Journal reported. Asking rents in the building currently range from the mid- to high-$30s per square foot, a source familiar with the building said.
The new 2014-2015 New York State budget includes an extension of the Commercial Revitalization Program for Lower Manhattan.