Grading Manhattan's Class B Buildings
---
---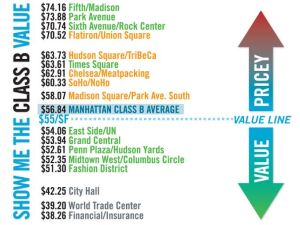 The Manhattan Class B average asking rent stands at $56.84 per square foot through April of this year—just 2.5 percent higher than the historical peak of $55.47 in 2007. However, the makeup of this average is significantly different from the last time Class B rents were this high. Not surprisingly, Midtown South, up 26.1 percent since 2007 at $63.80 per square foot, fuels the Class B average this cycle, while Midtown and Downtown Class B rents are still down 9.4 and 12.4 percent, respectively, from their historical highs. Using the parameters of Class B asking rents over and under a $55-per-square-foot average, let's see where the 17 Manhattan submarkets stack up and which ones are still considered a value for tenants.
Starting with Midtown South, no wonder the average for the market has surpassed its historical high by $13 per square foot, as all five submarkets average higher than $55 per square foot for Class B space. The Flatiron/Union Square submarket average asking rent of $70.52 per square foot ranks highest in Midtown South, as Class B asking rents in this area have soared 18.7 percent in the past 12 months. In fact, three out of the five submarkets are averaging north of $60 per square foot. Madison Square/Park Avenue South rounds out the Midtown South submarkets with a $58.07-per-square-foot average.
Within Midtown, five out of the nine submarkets' Class B asking rents average below $55 per square foot. Although these five submarkets (Grand Central, East Side/U.N., Penn Plaza/Hudson Yards, Fashion District and Midtown West/Columbus Circle) average between $50 and $55 per square foot, they are significantly lower than the remaining four submarkets, which average $70.80 per square foot.
Downtown continues to be the value play of Manhattan, as the Class B average asking rent is below $40 per square foot, at $39.38. City Hall/Insurance averages the highest Class B asking rent of the three Downtown submarkets, at $42.25 per square foot.
So for those of you keeping score, nine out of the 17 submarkets have Class B average asking rents north of $55 per square foot, minimizing the number of value areas throughout the market.