Atlantic Terminal Mall Scores Three Lease Renewals
---
---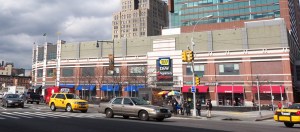 Ten years after the opening of Atlantic Terminal shopping center three tenants have signed as-of-right renewals at the Downtown Brooklyn megamall, Commercial Observer learned.
The Children's Place, Payless and Starbucks all renewed their leases for five or 10 years and are remodeling, Kathryn Welch, executive vice president at Forest City Ratner Companies, told CO at the International Council of Shopping Centers' RECon. The Bruce Ratner-headed firm developed the project.
"We did manage to get increases," Ms. Welch said.
Rents in the retail project at 139 Flatbush Avenue, which is next to another Ratner project, the Atlantic Center Mall, were about $50 per square foot when it opened in 2004. Today they are above $100 a foot, she said.
The Children's Place occupies 4,500 square feet. Payless takes up 2,000 feet and Starbucks is in a 1,800-square-foot space.
Not much square footage is available at the shopping center, which has 25 tenants, but Ms. Welch said, "We are in the process of recapturing a couple of spaces."
Forest City is relocating two tenants and is working on a third to stitch together a 3,000-square-foot space to lease out at Atlantic Terminal.
Over the last couple of years, a minimal number of spaces have become available.
Following Daffy's bankruptcy filing in August 2012, the discount chain's 19,000-square-foot space at Atlantic Terminal became available, as CO previously reported. That is space in which Japanese clothing chain Uniqlo opened and Victoria's Secret and Bath & Body Works expanded into at the end of last year, Ms. Welch said. A year prior, Pandora jewelry store took a vacated 1,500-square-foot space.
Dan Casiero of Forest City Ratner negotiated the Children's Place and Payless deals directly with the tenants and Luciana Francese of Forest City Ratner arranged the Starbucks deal.