Plaza District, While Nation's Priciest Submarket, Underperforms
---
---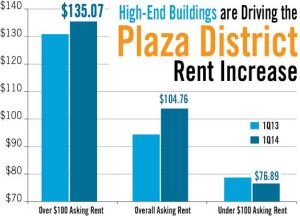 Spring is my favorite time of year. The baseball season is up and swinging, hockey and basketball head into the playoffs, the weather starts to warm up and the flowers in Central Park start to bloom. Spring greenery must make for some amazing views from the office buildings that overlook Central Park, as the Plaza District has the most expensive real estate in the U.S. However, this submarket has been underperforming compared to the rest of Midtown. With 5,494,166 square feet on the market for lease, the Plaza District boasts the second largest amount of available square footage in Midtown next to Grand Central.
In the first quarter 2014, the overall availability rate in the Plaza District jumped to 13 percent, an 80-basis-point increase from the end of 2013. This increase can be attributed to two subleases that hit the market in March: a 187,974-square-foot space at 350 Park Avenue and a 115,230-square-foot space at 31 West 52nd Street. Despite this hefty increase, overall average asking rents continue to soar, rising $3.44 per square foot in the last three months to $104.76. So, with availability still significantly higher than the rest of Midtown, why do the rents continue to skyrocket?
Looking at only the 17 buildings in the Plaza District with asking rents greater than $100 per square foot uncovers that these buildings are skewing the statistics. The average asking rent shoots up to $135.07 per square foot, while the availability rate jumps to 15.3 percent at these properties. Consequently, the average asking rent for buildings with sub-$100 rents is much lower, at $76.89 per square foot. The availability rate for these buildings is more in line with the rest of Midtown at 9.9 percent.
Demand has picked up for high-end space, as last year more than 70 leases were signed north of $100 per square foot. However, with a lower availability rate for the under-$100 per square foot average buildings, is the cheaper space actually in higher demand?