Ivy Leaguers Soon To Dine Al Fresco at Harvard Club
---
---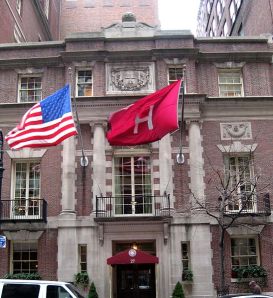 On June 12, the Harvard Club of New York will celebrate the 120th anniversary of the opening of the club's original building at 27 West 44th Street. That date will also mark the grand opening of the club's new rooftop bar, outdoor terrace and dining area on the ninth floor of that building.
But, the 150-year-old club is really hoping the rooftop construction will be done sooner and it can open by the middle of May, said Larry Marner of Marner Architecture, the chair of the club's house committee, which oversaw the renovations.

The prestigious club is based in adjoining lots at 27 West 44th Street and 35 West 44th Street (since 2003) between Fifth Avenue and Avenue of the Americas. After a survey of members indicated an interest in a roof terrace, renovations began last June.
Both the 1,500-square-foot indoor (with air conditioning) and 1,000-square-foot outdoor dining areas will seat 38 people, Mr. Marner said, and the bar will be in the enclosed area. One of the details of note to Mr. Marner is the crimson banquet inside, representative of Harvard University's color.
The restaurant will serve "novel cuisine along the lines of what we have," he said, including a Harvard University student favorite in Harvard Square, the Scorpion Bowl, a dish from Hong Kong Restaurant that Mr. Marner—and everyone else, for that matter—couldn't describe. "It'll get a chuckle," he noted.
The club's amenities include a 23,000-square-foot fitness facility on the sixth through eighth floors, 74 lodging rooms, two restaurants and a bar.
The renovations, by Jonathan Marvel of Marvel Architects, called for combining four rooms without bathrooms into two rooms with bathrooms, converting singles squash courts into a doubles court, and adding the rooftop bar, outdoor terrace and dining area. The room combination has been completed and the doubles court may happen in the next couple of years.
The roof terrace, Mr. Marner said, will provide a "modern take on a historic institution." He wouldn't reveal the price of the renovation.