Hale & Hearty Takes Space in MetroTech Center
---
---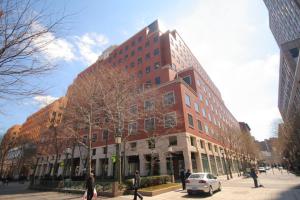 Hale & Hearty Soups will be opening at 2 MetroTech Center in Downtown Brooklyn this fall after signing a 10-year lease for 1,760 square feet, MetroTech Center developer Forest City Ratner Companies announced.
New York-based Hale & Hearty, which has 30 locations in Manhattan, Brooklyn and Long Island, sells sandwiches made with artisanal breads, salads and 15 to 20 different soups per day. All soups are made from scratch in Hale & Hearty's Brooklyn kitchens.
The fast-casual eatery joins Chipotle, which opened at 1 MetroTech last month, and Au Bon Pain, which will have a grand reopening this Friday.
"Downtown Brooklyn is fast becoming proof positive that healthy, delicious and affordable dining is what customers want," said MaryAnne Gilmartin, president and CEO of Forest City, in a prepared statement. "With 100,000 office workers and 15,000 residents in the neighborhood, MetroTech is an ideal location for new restaurants. As the Downtown Brooklyn business hub continues to transform, we expect even more great food options to open in the area."
Jesse Cooperman of Forest City represented the developer and Paul Rittenberg, director of development at Hale & Hearty, represented the tenant. Forest City declined to reveal the rents.