Former NYPD Commish Raymond Kelly Joins Cushman & Wakefield
---
---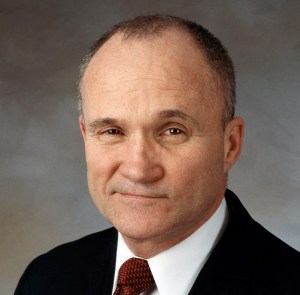 Cushman & Wakefield has reportedly hired former New York City Police Commissioner Raymond Kelly to head a new anti-terrorism and crime division.
The "risk management services" division will advise commercial real-estate clients on how to protect their buildings and data from threats.
"It's a tremendous opportunity for me," Mr. Kelly told the Wall Street Journal. "I think it gives me the ability to take some of the things I've learned and help start a new practice."
The job comes two months after Mr. Kelly hit the job market following a 12-year stint as police commissioner under former Mayor Michael Bloomberg.
Ed Forst, who took over as Cushman & Wakefield's chief executive in early January, worked closely with Mr. Kelly and his staff about a decade ago while addressing security concerns relating to Goldman Sachs' new downtown headquarters.
"This is a great opportunity to be strategic," Mr. Forst said. "It expands beyond just the words 'real estate.' But I think it's very adjacent."
Mr. Kelly has added a number of other part-time positions to his portfolio: he joined the Council on Foreign Relations as a distinguished visiting fellow, signed a deal as a speaker with Greater Talent Network and will serve as a "special adviser" to a planned New York state college for homeland security and emergency preparedness, the Journal noted.