Crunch is Out at 140 Franklin
---
---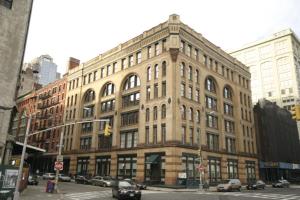 Crunch gym will not be leasing space at 140 Franklin Street, according to a March 19 settlement between the owner of the building's lone commercial unit, Lily Realty, and the condominium board, Commercial Observer has learned.
"We are very pleased with Lily's agreement and promise not to rent to Crunch," said Tarter Krinsky & Drogin attorney David Pfeffer, who along with Eric Zipkowitz represented the condo board.
In a $5 million January 9 lawsuit against Lily Realty and Crunch, the board, representing the landmarked Tribeca condo near Varick Street, stated that Crunch's potential 19,000-square-foot lease of the ground- and lower-levels in the building would have been in violation of the building's condo declaration and bylaws as well as city zoning laws, as Commercial Observer previously reported. The lawsuit has been discontinued.
At the last court date, on March 12, a judge denied a preliminary injunction against Lily Realty, and its proposed lessee, Crunch. But he found that the condo board had shown a likelihood of success in prevailing in its lawsuit that the proposed use by the gym was incompatible with the building's condo documents.
Fulbright & Jaworski partner Mark Robertson, who represented Lily Realty, didn't respond to a request for comment.