Singer & Bassuk Secures $450 Million Starwood Property Trust Loan for 250 East 57th Street Condo
---
---
The Singer & Bassuk Organization has closed a $450 million construction loan from Starwood Property Trust for World-Wide Group's $600 million luxury condo development at 250-252 East 57th Street, Mortgage Observer has exclusively learned.
The four-year loan with extension options, which closed earlier today, covers 93 condo units and 173 rental apartments as well as 33,000 square feet of retail space, said Andrew Singer, chairman and CEO of the New York-based brokerage firm, and a spokesperson for the developer. The loan also covers the Whole Foods Market store that was built on the site in 2010, Mr. Singer noted.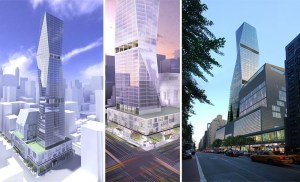 The approximately 715-foot tower, due for completion in the next 30 months, will contain 65 stories with 266 residential units in total. The Whole Foods and two new on-site schools for PS 59 and the High School of Art and Design opened in the fall of 2012. The New York City Educational Construction Fund owns both school properties.
The first phase of the project, not including the 39,000-square-foot Whole Foods, was entirely financed by the City of New York through bonds. The developer is paying off those bonds using lease proceeds as well as the federal Payments in Lieu of Taxes program.
Construction on the modernism-style condo skyscraper, designed by Roger Duffy of Skidmore, Owings & Merrill LLP, began earlier this year. The base portion of the property, including the schools and retail space, has been under development since 2010. Other principals in the condo project include Rose Associates and J.P. Morgan Asset Management, a person familiar with the transaction said on background.
"We have been involved for the past six years as advisor to World-Wide," Mr. Singer told Mortgage Observer.
Singer & Bassuk also provided phase-one financing of an off-site public school at 213 East 63d Street that World-Wide Group built as part of the process to relocate students from the site while the developer built the new schools there.
Mr. Singer and his colleague Kathleen McSharry were recently nominated for a Real Estate Board of New York "Most Ingenious Deal of the Year Award" for arranging $300 million in financing on behalf of Rose Associates and DTH Capital for the conversion of 70 Pine Street.
250 East 57th Street
,
70 Pine Street
,
Andrew Singer
,
DTH Capital
,
High School of Art and Design
,
J.P. Morgan Asset Management
,
Kathleen McSharry
,
Owings & Merrill LLP
,
PS 59
,
Real Estate Board of New York
,
Roger Duffy
,
Rose Associates
,
Skidmore
,
Starwood Property Trust
,
The Educational Construction Fund of the City
,
The Singer & Bassuk Organization
,
Whole Foods Market
,
World-Wide Group