Investments in Real Estate Return 11.8 Percent for Norway's Wealth Fund
---
---
Real estate investments returned 11.8 percent for Norway's $840 billion sovereign wealth fund in 2013, the fund's manager announced today.
In the fund's second-best year ever, the Government Pension Fund Global returned 15.9 percent, or $115 billion, overall, according to the Norges Bank Investment Management. The fund's equity investments returned 26.3 percent, while fixed-income investments returned 0.1 percent.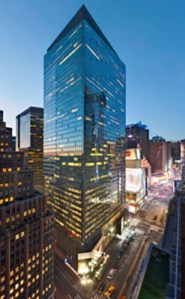 In a statement, Yngve Slyngstad, the chief executive of NBIM, attributed the fund's overall performance in 2013 to equity investments but singled out the fund's U.S. property investments as an area of future growth.
"The fund made its first property purchases in the U.S. in 2013," he said. "Investments in real estate will increase substantially in the coming years, and we have strengthened our organization over the past year with this in mind."
Last year, the fund's mandate was expanded to include property investments in countries outside of Europe. Shortly thereafter, NBIM entered a joint venture with asset manager TIAA-CREF. That deal saw the fund acquire a 49.9 percent interest in a $1.2 billion portfolio of five office properties in New York, Washington, D.C., and Boston. Later, the fund agreed to acquire a 45 percent interest in Times Square Tower from Boston Properties for $684 million in cash.
In 2013, the fund's asset allocation was 61.7 percent equities, 37.3 percent fixed income and 1.0 percent real estate. NBIM has been vocal about increasing its real estate investments to as much as 5 percent while decreasing its bond holdings a corresponding amount.