Benchmark Real Estate Partners Pay $57 M. for East Village Residential
---
---
Jordan Vogel and Aaron Feldman, principals of Benchmark Real Estate Group, have purchased a 58-unit, 12-story elevator apartment building at 200 East 11th Street in Manhattan's East Village for $57 million.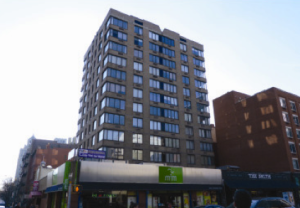 The building contains 55 free market, oversized one-bedroom units and three ground floor retail units — currently occupied by M2M, a grocery store, The Smith, a restaurant and bar, and a copy shop — with useable lower levels. Current zoning allows for potential expansion of the ground floor retail and residential above, an option given Benchmark's history of renovating and redeveloping assets.
"Ultimately, Benchmark, which has a proven track record of improving rental buildings, will benefit by expanding the retail and upgrading the quality of the apartments above," said Massey Knakal's James Nelson, who handled the transaction along with Mitchell Levine and Matthew Nickerson, in a statement. 
"When we began marketing, we weren't sure if the building would stay rental or go condo. There is great potential for both. Rarely does a property come up that is all fair market with so much upside."
Century Realty Investors also advised the seller on the transaction.