Aéropostale Concept Store Snags ICSC Silver Medal
---
---
The International Council of Shopping Centers has selected Aéropostale and its concept store at Roosevelt Field Mall in Garden City, New York as a silver medal winner at its annual U.S. Design and Development Awards.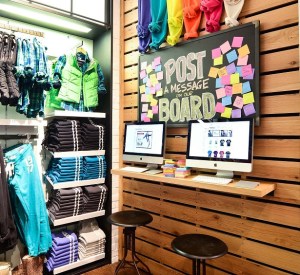 The store, which integrates technology into the shopping experience, mainly through the use of Apple products, won the silver award in the Retail Store category, which recognizes the impact of innovative store design on the success of the overall industry. 
The store has "revamped the brand's image, creating an emotional connection with their target teenage customer," with "dual notions of community and in-store technology [that] have redefined the shopping experience through old-school style community board posting and new-school iPad's," allowing shoppers to select personal playlists while they shop, an announcement from ICSC stated.
The competition was open to shopping center owners, developers, management companies, architects, designers, retailers, or other professionals responsible for any unusual or creative retail project or retail store design, and ICSC announced the winners of the 2013 U.S. Design and Development Awards during an awards ceremony at ICSC's annual CenterBuild Conference in Phoenix, Arizona. 
The full list of winners in four general categories, including Innovative Design and Construction of a New Project; Renovation or Expansion of an Existing Project; Sustainable Design; and Retail Store Design; can be found on the ICSC website.
Gold U.S. Design and Development Award winners are automatically eligible to win ICSC's VIVA Best-of-the-Best Award, the winners of which will be presented at the ICSC RECon conference in Vegas in May.