Union Square TGI Fridays Hits the Market
---
---
A TGI Fridays that prompted considerable hand-wringing about the gentrification of downtown Manhattan is on the market.
Newmark Grubb Knight Frank is handling the leasing for 34 Union Square East, which includes two separate 3,125-square-foot retail spaces on the southeast corner of 16th Street. The firm's Drew Weiss and Jeffrey Roseman are leading the assignment.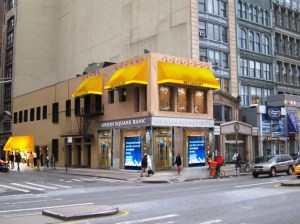 The ground and second floor space can also be combined, with a shared entrance on 16th Street. The address features 140 feet of wraparound frontage.
TGI Fridays opened off Union Square back in the summer of 2010. The chain, which began in Manhattan in 1965, will be closing a location on Eighth Avenue early next year. The Union Square branch could conceivably remain open, but the franchise has seen better days. Earlier this year, New Jersey authorities raided 13 TGI Fridays as part of "Operation Swill," which investigated employees replacing supposedly top-shelf hooch with house liquor.