Sahara Denies Plans to Sell Plaza Hotel
---
---
Sahara India Pariwar is looking to put a lid on reports that it intends to sell The Plaza Hotel, Dream Downtown and the Grosvenor House in London.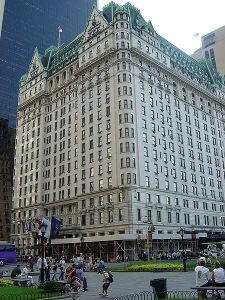 Multiple overseas publications, including India's DealCurry, reported that the assets were up for sale earlier this month, and later the New York Post reported that a $1.6 billion offer from an unidentified Mideast group was on the table for some portion of the firm's assets. But it isn't so, the firm claims.
"I would like to take this opportunity to set the record straight. Sahara is not looking to divest itself of these important assets at this time," Sahara Chairman Subrata Roy said in a statement issued last night.
"This speculation has arisen because we have received offers, but that does not mean we have any intention of selling. We view these properties as investments in our future and plan on developing them further with our partners in each location."
Indian securities regulators are reportedly clamping down on the firm, claiming it sold $4.8 billion in bonds in violation of national laws — what was dubbed overseas as a "$5 billion nightmare" — and Bank of China seeks the $1 billion in loans it fronted for the three properties, according to published reports.
But the Indian bond ordeal was stirring before the firm scooped up the storied Plaza, and when the firm purchased a controlling stake in the property last year many hoped the cash-rich firm would quell Elad Properties' not-so-smooth condo conversion of parts of the property.
The conversion reduced the number of guest rooms from 800 to 280, and left some buyers, who had paid up to $50 million for their homes, questioning the quality of the renovations. But by most accounts the hotel is still operating smoothly and the downsize of hotel rooms if anything is viewed favorably.
"Even though its down from 800 rooms to its current size, it's still one of the most famous hotels in the world, if not New York City," said Tom McConnell, head of Cushman & Wakefield's hotel transactions group, which is not involved with any negotiations relating to the Plaza or Sahara's other assets.
"It's doing well and it's a factor of the market doing well. The whole city is doing well and the four-and-a-half to five star market seems to be thriving right now. One thing about the plaza is that they can run it as a true five star hotel more easily than they could before because they don't have to fill so many rooms up," he added.
Elad hadn't owned the property for 10 years before selling the controlling stake to Sahara, led by Mr. Roy, for a reported $570 million last year. Sahara also reportedly paid $200 million for the Dream Downtown and $726 million for the Grosvenor House.
El Ad had tapped Sant Chatwal's Hampshire Hotels Management to run the Plaza's Oak Room, Oak Bar and Palm Court, with chef Geoffrey Zakarian slated to oversee the project; and Fairmont operates the hotel.
"When we entered into the partnership with Sahara at both The Plaza and Dream Downtown, it was for a long and fruitful marriage," said Sant Singh Chatwal, chairman and CEO of Hampshire Hotels Management, and owner of the Dream brand, in the joint statement issued last night. "Mr. Roy is simply restating his marriage vows. We still have a lot of work to do to fully realize the potential of these assets."
Cushman & Wakefield
,
Dream Downtown
,
Elad Properties
,
Geoffrey Zakarian
,
Grosvenor House
,
Hampshire Hotel Management
,
Plaza's Oak Room
,
Sahara India Pariwar
,
Sant Chatwal
,
Sant Singh Chatwal
,
Subrata Roy
,
The Plaza Hotel
,
Tom McConnell