Protest of South Street Seaport Plans Set for Tonight's CB1 Meeting
---
---
Newly unveiled plans for a 50-story hotel and apartment tower on the South Street Seaport waterfront have prompted opponents of developer Howard Hughes Corporation to organize a protest at tonight's Community Board 1 meeting.
HHC's proposal also adds a marina to the Seaport and calls for the dismantling and reconstruction of the 106-year old Tin Building.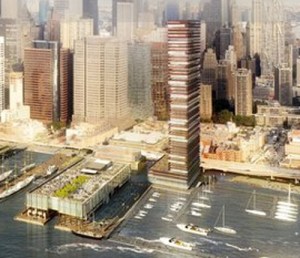 Robert LaValva, who founded the popular New Amsterdam Market and has become a leader in the fight to preserve the Seaport historic district, said in an email to supporters that "this ill-conceived project makes a mockery of Community Board 1, whose members have long demanded a participatory planning process for this public site, have insisted they do not want any towers built on the waterfront, and have passed at least five Resolutions requesting the New Market Building be protected as a NYC Landmark."
Earlie this year Mr. LaValva reluctantly renounced plans for a large food market in the Tin Building space after the City Council set aside an insufficient amount of space–10,000 square feet–for such vendors in the building. HHC's $200 million plan for the Seaport and its 365,000 square feet of existing retail space came into focus this summer with a series of indie pop-up shops and food stands vying with tourist-filled tchotchke shops that for years dominated the area.
"If you care about the future of our city's public waterfront, help us stop this proposal dead in its tracks by protesting at tonight's CB1 meeting," Mr. LaValva said in his email. The debate should take on additional resonance given this morning's whitewashing of 5Pointz, another fraught development project. The protest begins at 6 pm tonight at the Southbridge Towers community room at 90 Beekman Street.