Hollister Looks to Sublease Flagship Space at Gateway to Soho
---
---
Faced with declining sales, the once-trendy teen fashion retailer Hollister is marketing its Soho flagship for sublease.
The surf-themed Abercrombie & Fitch subsidiary signed a 20-year, 42,000-square-foot lease at 600 Broadway in 2007. It attracted gawking passersby with young male door greeters clad in little more than lifeguard trunks and zinc oxide sunscreen. They did not save the store from a massive bedbug infestation in the summer of 2010.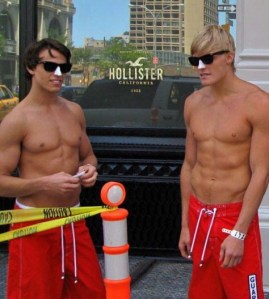 Lois Weiss of The New York Post reported that Laura Pomerantz of Laura Pomerantz Real Estate is handling the assignment for the five-level space owned by Aurora Capital, Bobby Cayre and the Adjmi family . Joanne Podell of Cushman & Wakefield is handling retail leasing for the building. Ownership could find another tenant or buy out the lease currently backed by A&F's credit.
Hollister opened in 2009, replacing a Pottery Barn and–to the chagrin of sentimentalists–the famed black and white DKNY mural of the pre-9/11 city skyline that monopolized its northern wall. That outdoor canvas–now adorned with the Hollister logo–will soon be mostly obscured by a new six-story mixed-use building being developed by Madison Capital at 606 Broadway.
In the latest quarter, sales at Hollister dropped 16 percent from year-ago levels.