Skyway Development Group Expands Flatiron Portfolio
---
---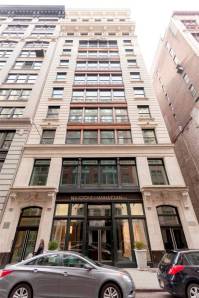 Skyway Development Group continues to expand its Flatiron portfolio with the addition of 30 West 21st Street. Perhaps better known as the host of Danceteria in the 1980s, the building includes 60,000 square feet of office and retail space between Fifth and Sixth Avenues.
Massey Knakal's James Nelson was instrumental in brokering the $38.5 million dollar transaction between Skyway and Kimco Realty Corporation. 
Since 2007, the building has been renovated by architect Karl Fisher, who restored the original copper and stone facade to bolster its intended luxury commercial use.
"Our announcement reaffirms the company's strength in identifying and pursuing sites with long term potential to attract high-end commercial and residential clients." said Steven Mashaal, managing partner at Skyway, in a prepared statement.
"We believe that the value of property in the Flatiron District will continue to increase, and our growing portfolio there – and in Lower Manhattan – gives us a strategic advantage as we continue to focus on long term returns for our portfolio," Mr. Mashaal added.
The deal comes in light of Skyway's focus on the Flatiron District in recent years. The firm initially ventured into the neighborhood and acquired 29 West 19th Street and the adjacent plot before the turbulent real estate years in the 2000s.
That lot would further receive a special permit from the Department of City Planning to build a 15-story residential building, otherwise known as the The Emory Condominium.