Former 'Mercantile Library' Building Hits the Block, First Time in Eight Decades
---
---
Non-profit group The Center for Fiction has put its eight-story, 18,200-square-foot building it at 17 East 47th Street on the market for the first time in 80 years for $19.5 million, The Commercial Observer has learned.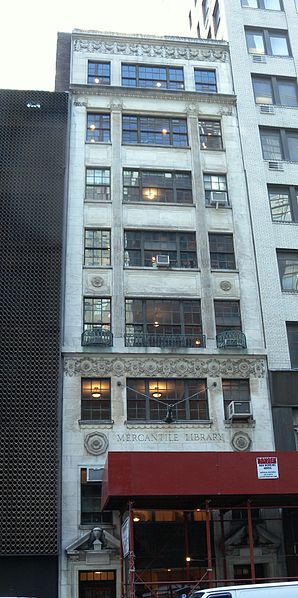 The 25-foot-wide, historic commercial building offers immediate redevelopment possibilities, with 20,375 square feet of unused air rights, said Eastern Consolidated, the firm marketing the property.
"This building has it all – distinctive architecture, a core Midtown location, unused air rights, proximity to Grand Central, and it will be delivered vacant," said Marion Jones, who is marketing the property with the firm's chairman and CEO Peter Hauspurg, David Schechtman and Steven Zimmerman.
But, she added, "The real value is in its re-development potential."
The unused air rights total roughly 20,375 square feet and the property's location, between Fifth and Madison avenues and close to such landmarks as Radio City Music Hall, Saks Fifth Avenue and Bryant Park, is ideal for an office building or boutique hotel conversion, brokers said, noting that the vacant building offers a chance to lease space at market rates.
"Given supply constraint in the Midtown office market and low vacancy rates, a boutique office redevelopment makes a lot of sense," said Mr. Zimmerman.
Built in 1932 by architect Henry Otis Chapman, the property, then known as the Mercantile Library building, boasts a second floor reading room and event space, a screening room on the sixth floor and a writers' studio and library on the sky lit eighth floor.  Its ground floor retail component is currently occupied by a bookshop.
The Center for Fiction support writers and promotes fiction and literature.  It was founded in 1820 as the New York Mercantile Library.