Anthropologie Nixes Store at 250 Bowery, Dissing Buildout
---
---
Just two weeks after the facade at 250 Bowery was revealed, with Anthropologie's name dominating the exterior, the retailer has reportedly backed out of its 10,000-square-foot location at the new Lower East Side building.
The apparel maker broke its contract on Thursday following months of rumors that the company had been displeased with an unspecified aspect of the new property's buildout. Its ground floor space is now back on the market, with an annual asking rent of $1 million.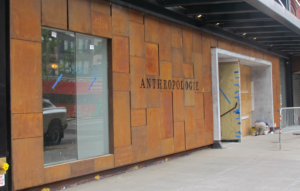 Racked broke the news of Anthropologie's scuttled plans. And Bowery Boogie reported late last month that the opening of the store had been delayed despite the recent unveiling of 250 Bowery's facade. However, the official reason given for the dust-up concerned the landlord having missed several performance dates pertaining to damage from Superstorm Sandy.
Whatever the root cause, the rapid fire gentrification of the Bowery, until recently a skid row, has hit a rare snag. As BB put it, "all the masturbatory real estate literature proclaiming the merits of this anchor tenant is now relatively obsolete." Still, as The Commercial Observer wrote in December, tenants including Patricia Field (which recently moved to a new building on the street), Intermix and the restaurant Bitsy Bardot continue to make the strip a must-stop for trendy shoppers.
RKF Vice President Ariel Schuster at the time told The CO that the Bowery in the next five to 10 years would be "one golden strip," and that it had already "replaced Nolita" as a stylish shopping destination.