Haute Hostel The Freehand Headed to Williamsburg, Across From The Wythe Hotel
---
---
The Sydell Group has closed on a parcel of land on sizzling Wythe Avenue in Williamsburg where a Freehand Hostel is rumored to be in the works. A Freehand Brooklyn might compete with the new-ish Wythe Hotel for guests.
Last December, Sydell paid the Rosenwach Group $10 million for three parcels on Wythe Avenue between North 9th and 10th Streets.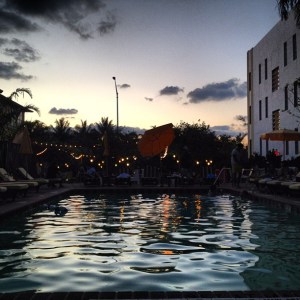 Sources told the New York Post that Sydell chief Andrew Zobler plans to build a Freehand on the site, which includes 200 feet of frontage on Wythe. The Freehand is part of a new breed of "haute hostel" that offers cheap, communal lodging to the stylish, but cash-strapped, traveler. A search for rooms in the Freehand's original Miami Beach branch turns up one-to-eight-bed rooms for between $25 and $129 a night. Rooms at the Wythe start at close to $200.
Ron Burkle's Yucaipa Cos. is an investor in the Freehand line, and the Sydell website says the joint venture plans to "develop and operate up to ten Freehand properties over the next few years." The Miami branch, which features the obligatory artisanal cocktail bar and bike share program, has become a darling of the Art Basel and fashion crowds, making it a good fit for contemporary Williamsburg.
Bars, clubs and restaurants have sprouted like weeds around Wythe Avenue lately. Output opened next door to the Wythe Hotel earlier last year.