Gregg Singer Faces LPC, Community Boards Over 500-Bed East Village Dorm
---
---
Last month, plans emerged for a 500-bed, multi-college dorm that will rise on the site of the old PS 64 at 605 East 9th Street in Alphabet City. Now, developer Gregg Singer, who leads the investment group behind the conversion, is seeking approval for the project from the Landmarks Preservation Commission and Community Board 3's Land Use, Zoning, Public and Private Housing Committee.
At a LPC meeting last night, city councilmember Rosie Mendez, along with representatives from the Greenwich Village Society for Historic Preservation and the East Village Community Coalition, spoke against the $40 million proposal. Mr. Singer will need the LPC's approval for any exterior changes to the landmarked building.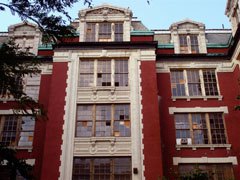 Ms. Mendez voiced "very serious concerns" about proposed changes to the roof including the installation of metal screen railings and mechanical equipment. She also criticized the planned privatization of elevated courtyards off 9th Street. EV Grieve reported that the LPC members present did not vote on the proposal, but made suggestions for modified plans that will be discussed in a future public meeting, its date currently undetermined.
The dormitory is also on the docket for tonight's CB3 Land Use committee meeting. Cooper Union has already signed a lease for 200 beds in the dormitory, which is currently seeking other education sector tenants.