Con Ed Threatens to Cut Electricity This Weekend at Debt-Ridden Players Club
---
---
Representatives from Con Edison visited the financially beleaguered Players Club on Monday and said they'd cut the lights at the Gramercy Park social club if it didn't pay the $8,000 it owes the utility giant.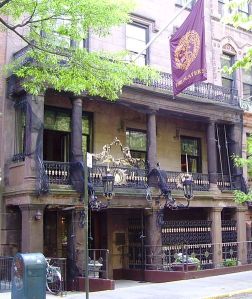 Con Ed expected to revisit the 124-year-old Players Club today to collect the debt. The actor's society has been embroiled in a well-publicized financial and internecine mess for years. A labor dispute erupted in 2008 after the club fired 16 union members and was fined $100,000. And members were furious when the club sold two of its John Singer Sargent portraits to help pay for $650,000 in repairs to the facade of 16 Gramercy Park South and generally stay afloat.
Last week, the Players Club removed Executive Director John Martello, who had run the club for nearly 20 years. DNA Info reports that the society also owes $14,000 to its meat supplier, $3,500 to its laundry service and $2,800 for heating and air-conditioning costs. It is also reported to be $75,000 to $100,000 behind on facade restorations.