New Tricks for Old "Times" Building
---
---
When the information database developer 10Gen was on the hunt for office space last year, it initially focused its search around Midtown South's tech-industry hotbed. In December, the company inked a deal for 29,400 square feet at 229 West 43rd Street, the old New York Times headquarters.
The deal suggested a shift among youthful companies that for years had sought nontraditional loft-like offices in and around the Flatiron District, Union Square and Soho.
A post-recession spike in activity and rents was welcome, but even more encouraging was the fact that cutting-edge tech and new media firms were generating significant activity in the prime neighborhood so often associated with starchy law firms and corporate users. The fact that the former headquarters of an archetypal old media giant was drawing new media (and tech) blood was an intriguing development.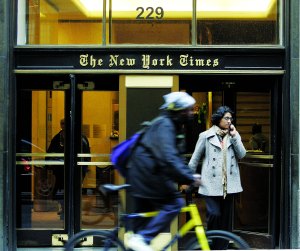 "10Gen and Felix [a division of I.A.C. that leased 26,000 square feet last January] have been big drivers," said Brian Waterman, a vice chairman at Newmark Grubb Knight Frank who has been on the 229 West 43rd Street assignment for just over a year. "The building is extremely active, and a bunch of larger tenants are hanging around the rim."
When this story went to print, the property's website listed 480,000 immediately available square feet. Mr. Waterman envisions an anchor tenant laying claim to the 18-story, 747,852-square-foot Class A building, with a few smaller users along the lines of 10Gen filling in the rest of the airy space.
"Right now we have really creative loft-like prebuilts on floors four, five and six and are looking for a large user for floors seven through 18," Mr. Waterman said. (Blackstone bought those top 12 floors in 2011 for $160 million.) "I believe there will be a user with its name on the building and the skyline, because the old logo space is available on the roof."
Mr. Waterman said that an assortment of "creative" tenants is looking at the building, but that it was "hard to shoehorn them into new media and tech." Fashion tenants have also taken peeks. Asking rents range from the mid-$60-per-square-foot range to $80 per square foot. "Every single space in the building has a specialness to it," Mr. Waterman said. He added that the average ceiling height is 14 feet, while some soar to 21 feet.
Still, certain prospective tenants have concerns about the building occupied by the Times from 1913 through 2007. The Wall Street Journal reported last month that the news agency Al Jazeera eyed the space and was turned off by an excess of columns. Mr. Waterman declined to comment on the record about that story, but he did say that the philosophy behind the property's redesign was: "Don't make it what it's not. We didn't want to white-box it or sterilize the environment."
Given recent developments like the image licensing firm Shutterstock's 80,000-square-foot lease at the Empire State Building, Mr. Waterman is bullish on Midtown's vitality and appeal to young tenants.
"Shutterstock's commitment to Midtown says a lot about the market," he said. "Users really want the quality of life and ease of transportation here. [The building at 229 West 43rd Street] has had a lot of exposure to new media and tech companies. We're negotiating with a couple of exciting people, and I can see an occupancy rate of 80 percent by the end of the year."