AKA Strategy Renews at 51 East 42nd Street
---
---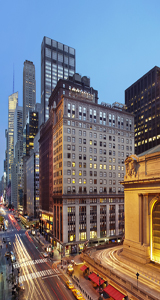 AKA Strategy, formerly known as Anthony Knerr & Associates, has renewed its lease in Midtown.
The strategy consulting firm focused on assisting nonprofit institutions in the United States and Europe will maintain its 3,000-square-foot office on the 14th floor of SL Green Realty Corp.'s 51 East 42nd Street.
"Our client is pleased to be able to remain in the building due to its central Midtown location, adjacency to Grand Central Terminal, wealth of area amenities and the fact that the space continues to ably meet their needs," said Gerard Picco, a senior vice president of DTZ.
Mr. Picco worked alongside Senior Associate Simon Landmann in representing the tenant. An in-house leasing team consisting of Elaine Anazagasty, Colleen Minde, and William Carr acted on the opposite side of the table representing SL Green Realty Corp.
As one the city's largest landlord, SL Green owns more than 40 million square feet across 85 buildings with over a dozen in the Grand Central area. The firm had acquired the 160,000-square-foot 51 East 42nd Street at the end of 2011 for approximately $80 million. The building was recently awarded an Energy Star label for its operating efficiency and recent modernization efforts.
Leasing initiatives started immediately following its acquisition and several tenants, including Cooper Horowitz Inc., Williamson, Pickett, Gross, Inc., and Modell's have remained in the building. The property still has approximately 12 office spaces available ranging from 226 to 9,765 square feet.
The asking rent was not disclosed in the deal, but the rent in the building generally ranges from mid to upper $40s per square foot.