Rumors of Telecommuting's Death Greatly Exaggerated, Yahoo Employee Claims
---
---
When Marissa Mayer, the chief executive of Yahoo, announced last month the abolishment of the internet pioneer's work-from-home policy, the move was seen as a referendum not only on the company's current struggle to stay relevant but also on the very idea of telecommuting.
Founded in 1995, Yahoo played a role in the rise of working remotely, a trend that certain exaggerated reports argued could lead to the abandonment of traditional headquarters altogether. Ms. Mayer, who came to Yahoo last year from Google, cited the importance of face-to-face collaboration as a promoter of innovation, but implicit in the announcement was the feeling that Yahoo needed a morale boost and a stronger brand identity that could not be achieved from workers' living rooms.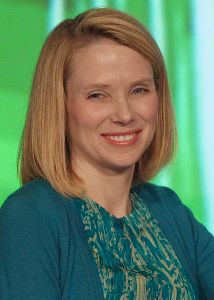 The offices that employees were called back to had already undergone a transformation aimed at promoting Yahoo pride. The Sunnyvale, California-based corporation in 2011 partly relocated its New York office to a 50,000-square-foot, three-story suite at 1540 Broadway. The space featured door pulls shaped like exclamation points and a whole lot of purple, and was seen as a better place to attract clients than the office at 111 West 40th Street, which the company kept.
The Commercial Observer spoke to a Yahoo employee about the internal reaction to Ms. Mayer's decision and whether it might have its intended effect. The source, who wished to remain anonymous, works out of the West 40th Street space and said the move had generated an "interesting conversation" and been met with confusion rather than anger or unhappiness.
"There's curiosity about why [Marissa] did it," our source said. "And there's a sense that the announcement wasn't handled that well. People think there were crappy public relations and it was done sloppily. And in New York, the sense is it might have been caused by a problem with some of the West Coast people who, well, weren't really doing their jobs."
Employees summoned back to the office at 111 West 40th Street might have more reason to complain than those at 1540 Broadway, which conforms to tech field expectations of sleek modernity.
"The office is really grimy and kind of depressing," our source said. "There's just an awful purple everywhere." That said, one of Ms. Mayer's first attempts at brightening employees' moods—free lunches—appears to have paid off.
"To my surprise—because the food's pretty awful—it really has brought people together," our source said. "People are hanging out and talking." Work conditions are not quite as pleasant. One employee who had been working from home a few days a week now splits a small cubicle on the days she's back in the office.
"What ultimately has to happen is a rearranging," our source said. "There are empty cubicles on our floor. I don't even know if they belong to us. But they'll have to rethink the space. I guess what Yahoo shares with other tech companies is this fluid sense of your own space."
The source did not say there was an overriding sense of cramped quarters, but did mention that it was unclear whether people on contract would be required to come in like the full-time staffers. Ms. Mayer's decision might lead to Yahoo's search for new real estate should things begin to feel tight, but for now our source said there's been little talk of expansions.
"I haven't heard even a whisper about that. I hope they do expand. I hope they tear 111 West 40th Street down and start over."
"We don't discuss internal matters," a spokeswoman for Yahoo said in an email yesterday. "This isn't a broad industry view on working from home. This is about what is right for Yahoo right now."