Class A Properties Represent Majority of Available Space in Manhattan
---
---
Manhattan Class A space currently accounts for 62 percent of the available supply in a recovering market. Yes, you read that correctly—62 percent in a recovering market!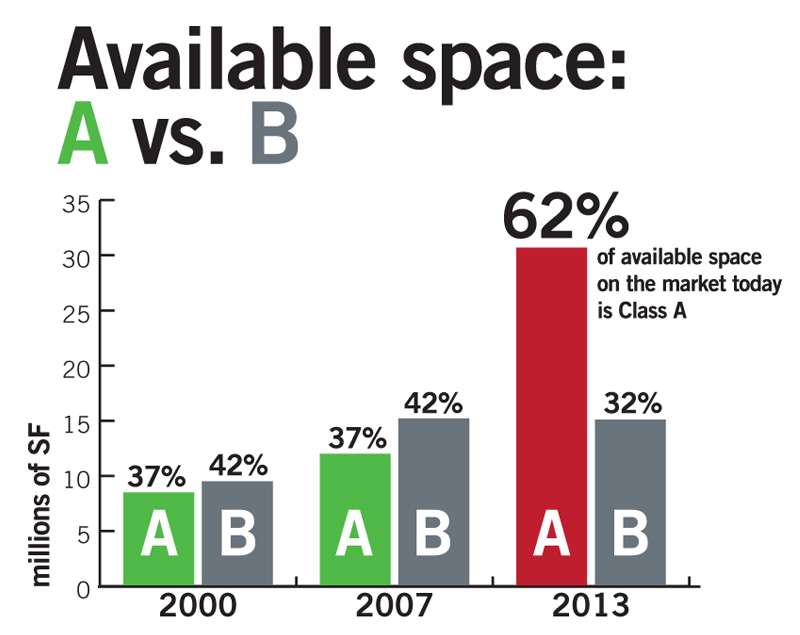 If you look back at the recovery cycles of 2000 and 2007, Class A available space was much tighter and in higher demand, only representing 37 percent during each cycle. Meanwhile, today Class B space currently accounts for only 32 percent of the available supply. One may respond, "But isn't the Class B market smaller than Class A?"
The simple answer to that is yes—247 million square feet compared with 146 million square feet. And to that I say, "It doesn't matter if the Class B market is smaller!"
Looking back at those other two cycles, Class B available space was much higher, accounting for 42 percent in 2000 and 46 percent in 2007.
Tenants were flocking to Class A space back then, when the recovery was led by financial services tenants looking to lock down space in Midtown. Today's recovery feels different because it is different. The professional and business services sector, which includes technology firms, has demonstrated the most growth—to the tune of 86,200 jobs added since bottoming out in August 2009. Most of these firms are leasing Class B space, and their focus is on the trendy Midtown South submarkets and a flight to value.
The increases in asking rents support this trend as well. In 2007, Class A Midtown space was driving the recovery, with asking rental rates up 81 percent from the trough of 2003. In today's recovery, Class B Midtown South is the market driving the recovery, with asking rents up 46 percent since their low of 2010. This is significantly higher than Midtown Class A's rental increases during this same period, which were only 23 percent. Class B continues to lay the smackdown on Class A.

Richard Persichetti is the vice president of research, marketing and consulting at Cassidy Turley, with 14 years of NYC research experience.