Retail Condo Sells for $12.2 M in Neighborhood Rife With Paparazzi After Colossal Katie Holmes Sighting
---
---
A retail condominium at 383-391 Amsterdam Avenue (172 West 79th Street), with a mix of six retail tenants in place and located within gawking distance of a recent Katie Holmes citing next door, has sold for $12.2 million, The Commercial Observer has learned.
The condominium, on the corner of Amsterdam Avenue and West 79th Street, is divided into six stores totaling approximately 4,070 rentable square feet at ground level, with 102 feet of frontage on Amsterdam Avenue and 30 feet on West 79th Street, in a posh Upper West Side retail corner.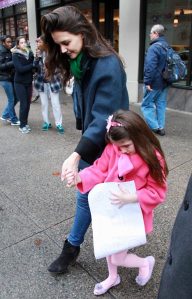 "With strong rents and a diverse tenant base, this property was a tremendous investment for the buyer on one of the Upper West Side's prime retail corridors," said Massey Knakal First Vice President of Sales Guthrie Garvin, who exclusively handled the transaction with Paul Smadbeck, and declined to identify the buyer and seller citing a confidentiality agreement.
The current tenants are photography studio Classic Kids, Bagels and Co, ice cream shop Emack and Bolio, NOI Café, kids clothing store Stoopher and Boots, and Apthorp Cleaners.
The property is also adjacent to the newly-opened Sugar and Plumm flagship, the upscale sweet shop and bistro where actress Katie Holmes reportedly celebrated a portion of her 34th birthday last month with 6-year-old daughter Suri, the child spawned by Ms. Holmes and former hubby and Top Gun-star-turned-Scientology-champion Tom Cruise.
Pastry chef Pichet Ong surprised Ms. Holmes with a "homemade vanilla sponge cake layered with strawberry jam and vanilla buttercream frosting that said 'Happy Birthday Katie,'" according to Us Weekly, which plastered various photos of the celebrity, daughter Suri, and other mostly mundane details about their lives across its website today.
172 West 79th Street
,
383-391 Amsterdam Avenue
,
Apthorp Cleaners
,
Bagels and Co
,
Classic Kids
,
Emack and Bolio
,
Guthrie Garvin
,
Katie Holmes
,
Massey Knakal Realty Services
,
NOI Café
,
Paul Smadbeck
,
Pichet Ong
,
Stoopher and Boots
,
Sugar and Plumm
,
Tom Cruise
,
Us Weekly