Micro Office Solutions Opens New Location
---
---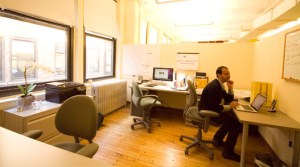 Micro Office Solutions has inked a deal for its fifth location in New York.
The office services company will sublease a 26,000-square-foot office on the 12th floor of 1601 Broadway between 48th and 49th streets in Times Square. The space will join their portfolio of offices that include 36 West 20th Street in Flatiron, 122 West 27th Street in Chelsea, 1375 Broadway in Midtown, and 902 Broadway near Union Square and Madison Square Park.
"The tenant was attracted to the space by the economics," said Joseph Friedman, a broker at Murray Hill Properties and a representative for the tenant. "The floor has a nice mix of windowed offices and open space and a very efficient floor plan."
Micro Office Solutions offers a range of packages that range from $99 to $700 a month and varies in services from conference usage, hours of access, desk usage, and telephone and internet.
"The tenant was searching for an additional location," Mr. Friedman added. "We were able to secure the sublease in a class A building, in a great location, at a reasonable rent that worked within their budget."
Mr. Friedman was the exclusive broker for Micro Office Solutions. A leasing team from Cassidy Turley consisting of Tim Kucha, Stephen Riker, and Nicholas Woodhull represented the sub-landlord in the transaction. The team could not be reached for comment.
The asking rent for the sublease was $28 per square foot. The lease duration was not disclosed, but an advertisement listed the lease term through May 31st 2016.