Mixed-Use Building in Nation's Most Expensive Neighborhood Hits the Market as a Potential Mansion Conversion
---
---
A note to all billionaires:  Massey Knakal Realty Services is exclusively marketing an 11,000-square-foot Upper East Side building at 18 East 64th Street for $40 million.
The property has been off the market for six decades, and now presents an opportunity for a potential buyer to cut down existing office and residential space in the building and create a single-family palace on one of the city's most exclusive blocks – and the nation's most expensive neighborhood.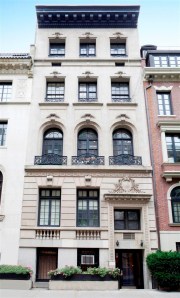 "As far as where a billionaire would want to live, this is second to none," said Guthrie Garvin, a first vice president of sales at Massey Knakal.  "This is one of the most desirable townhouse blocks in the city.  With its location near Central Park, 25-foot width, beautiful façade, and over 11,000 square feet, this is an opportunity to create one of the finest mansions in the city."
The five-story building is situated on the so-called "Gold Coast" of the Upper East Side, the ultra-wealthy stretch between Fifth and Madison Avenue on the south side of East 64th Street.
The area bounded by East 60th and East 68th Streets, between Central Park and the East River, and marked by the 10065 ZIP code, was ranked by Forbes magazine as the most expensive in the nation in October, with median home prices topping out the list at $6.5 million.
The sheer size, high ceilings, limestone façade and 25-foot width at 18 East 64th Street set it apart from many of its neighbors, with the asking price exceeding median pricing by more than six times.
The property is currently broken down into offices and residential apartments, but it will likely undergo a full renovation, as leases in the building approach their end, Mr. Garvin said.
He was unable to give details about the seller, other than saying that they felt it was the right time to move on to other investments.
"These don't come to market very often and it has all the elements for a new owner to come in and make this into a dream home," he said.