Bon Bé Bé Latest Children's Clothing Companies to Ink at 34 West 33rd Street
---
---
Bon Bé Bé, a division of International Intimate Holdings, Inc., has signed a 10-year lease for 10,157 square feet of office space at 34 West 33rd Street, a building also known as The Childrenswear Center, The Commercial Observer has learned.
The asking rent for the new space was $39 per square foot and occupancy is anticipated for December 2012.
Coldwell Banker Commercial Alliance Principals Richard Selig and Peter Sabesan represented the tenant in the transaction.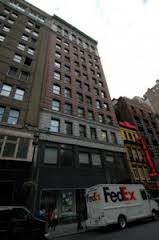 "We are delighted to bring this well-established international company home to the center of children's clothing," Mr. Sabesan said.  "It is one of the few remaining niche buildings in the area and an address that is recognized throughout the industry.  The owners have kept this an industry building and if you're in children's clothing, this is the building to be in."
Bon Bé Bé will be relocating from 112 West 34th Street to the 9th floor at The Childrenswear Center.  The design, import and wholesale company, which sells clothing online, is responsible for such brands as Rene Rofé Baby, Wild Child and a host of private labels, including Isaac Mizrahi Baby.
Adams & Company's David Levy represented building owner Arcade Building Associates.  Mr. Levy declined comment.
The Childrenswear Center is a 12-Story, 206,400-square-foot building with roughly 186,000 square feet of office space and 20,000 square feet of retail space.
The leasing team for the building has signed several new tenants into the building over the past year.
Last month, Handcraft Manufacturing Corporation signed a lease to relocate to the building, signing a similar 10-year,11,250-square-foot lease.
Over the summer the infant and children's clothing designer Kids Apparel Club Inc. grabbed 5,631 square feet on the fourth floor.
And earlier this year Eiseeman Co. and Enekony joined other notable tenants building tenants, including Bentex, Baby Fair, Sarah's Prints, and Kissy Kissy.
112 West 34th Street
,
34 West 33rd Street
,
Adams & Co.
,
Baby Fair
,
Bentex
,
Bon Bé Bé
,
Coldwell Banker Commercial Alliance
,
David Levy
,
Eiseeman Co.
,
Enekony
,
Handcraft Manufacturing Corporation
,
Inc.
,
International Intimate Holdings
,
Isaac Mizrahi Baby
,
Kids Apparel Club Inc.
,
Kissy Kissy
,
Peter Sabesan
,
Rene Rofé Baby
,
Richard Selig
,
Sarah's Prints
,
The Childrenswear Center
,
Wild Child