Among Developers, City Midtown Zoning Push Draws Fans, Foes
---
---
Mayor Michael Bloomberg's plan to spur development in the Grand Central area, Manhattan's biggest office submarket with almost 44 million square feet of inventory, is winning mixed praise from real estate executives, who say New York may be at risk of losing its preeminence over such business hubs as London, Hong Kong, Tokyo and Shanghai.
"I think Mayor Bloomberg has this right," said Stuart Eisenkraft, vice chairman at CBRE (CBRE) and co-chairman of the firm's global cities practice. "It's sort of a no-brainer the global economy is here and it's here to stay." Developers in Asia, he said, "don't have the challenge of site logistics or governance that prevents them from building magnificent Class A buildings."
The new Midtown East district would loosen restrictions in a 78-block area between Fifth and Second Avenues and East 57th and East 39th Streets, where buildings are more than 70 years old on average and have low ceilings and interior columns that are undesirable to Class A tenants, the Department of City Planning said in an overview. Most of the new development would be focused on the area around Grand Central Terminal, because it has the best transportation access and largest concentration of aging office stock, according to the department's Midtown East study.
Some urban planners, community boards and City Council members have expressed concern that the addition of towers that may be taller than the 77-story Chrysler Building would worsen crowding, The New York Times reported.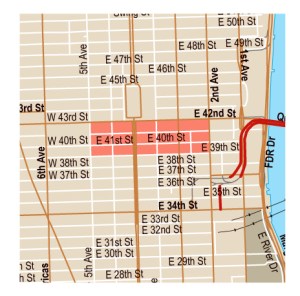 Mitchell Korbey, who chairs the land use and environmental group at Herrick, Feinstein LLP, said taller buildings would be subject to a "stringent" public approval process. Under a sunrise provision, the first building permits under the rezoning would be issued on July 18, 2017—five years after the date of the planning department study.
"This plan is forward-thinking," Mr. Korbey said. "The idea is not to see a pell-mell rush of development. It's about a recognition of the need to support East Midtown."
Among the potential projects is a 1.2-million-square-foot building envisioned by SL Green (SLG) Realty for the block between East 42nd and East 43rd streets and Madison and Vanderbilt Avenues. SL Green, which owns all the buildings on the block, said during an investor conference last year that the building may resemble "prestigious properties" like the Burj in Dubai, Mori Tower in Tokyo, the ICC Tower in Hong Kong, the World Financial Center in Shanghai or the Petronas Towers in Kuala Lumpur.
A spokesman said it is too soon for the company to discuss its plans for the property. APF Properties owns a building at 286 Madison Avenue that has the potential to be affected by the plan, because, like most older buildings in the area, it's "over-built based on current zoning laws" and can't be torn down and replaced by a newer building of the same size, said Kenneth Aschendorf, a principal in the company. While long-term leases prevent APF from considering redevelopment of the property for the "foreseeable future," Mr. Aschendorf said he favors the zoning because it would boost demand for Class B space among companies that provide services to the occupants of any additional Class A buildings.
Rents for Class A space in the Grand Central submarket averaged $57.40 a square foot in the third quarter, compared with $49.38 for Class B offices, according to Cushman & Wakefield (CWK).
286 Madison Avenue
,
APF Properties
,
Chrysler Building
,
Department of City Planning
,
Grand Central
,
Herrick Feinstein
,
Kenneth Aschendorf
,
Michael Bloomberg
,
Mitchell Korbey
,
Stuart Eisenkraft
,
CBRE
,
Cushman & Wakefield
,
SL Green