Times Square Hotel Trades for $275 Million
---
---
Starwood Hotels & Resorts has completed the sale of the 665-key Manhattan at Times Square Hotel. The hotel, at 790 Seventh Avenue, sold to affiliates of Rockpoint Group, Goldman Sachs' Real Estate Principal Investment Area and Highgate Holdings.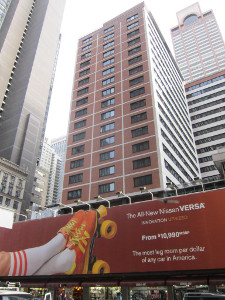 The price paid for the hotel was $275 million in cash and the deal will leave it to be operated by Highgate Holdings.  The sale of the property, once named to a Time Out New York list of the best by-the-hour hotels, was part of an ongoing Starwood initiative.
"As we continue our transition to an asset-light model, we continue to look for opportunities to sell our owned hotels at attractive prices to best create value for our shareholders, and this sale of a non-strategic asset is consistent with that strategy," said Simon Turner, Starwood's president of global development.
"In 2010, we removed the Sheraton flag from the Manhattan at Times Square property as part of our ongoing commitment to the revitalization of the Sheraton brand in North America and began a rigorous process to evaluate all value-maximization options for this asset."
cgaines@observer.com