Steiner Equities Takes $25 Million Loan for Williamsburg Multifamily
---
---
Meridian Capital Group recently wrapped up $25 million in acquisition financing for Steiner Equities' purchase of the Jardin, a 44-unit multifamily building with retail space in the Williamsburg section of Brooklyn.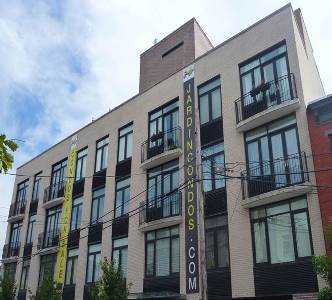 The four- and five-story buildings making up the Jardin are located at 142 North 6th Street and make for 45,521 square feet of space in all. Read Properties Inc. sold the building to Steiner Equities in June 2012 for $38 million, according to data from Real Capital Analytics which also indicated that the lender is Sovereign Bank.
Meridian managing director Aaron Appel and vice president Jonathan Schwartz negotiated the 10-year, fixed rate balance sheet loan.
"The sponsor's deep knowledge of the market, paired with the spectacular location of the property, was extremely beneficial in working to quickly close this financing in under three weeks," Mr. Schwartz said in a prepared statement about the deal.
For his part, Mr. Appel added that the "transaction highlights how Meridian's strong relationships and market expertise allow us to quickly obtain financing that is tailored to the client's needs."
The Jardin, which includes two retail spaces, was originally slated to be developed as condos but was changed to rentals before all the units sold. It has since been fully leased at an average rent of $53 per square foot.
Meridian was able to arrange the loan within a tight, 18-day timeframe, the firm said.
cgaines@observer.com