EB-5 Financing Set to Expire In September
---
---
Legislation allowing oversees investors to fund job-creating real estate projects in exchange for green cards is set to expire at the end of September and proponents of the financing mechanism fear that a stalled deal to renew the law could strand hundreds of millions of dollars of development in the city.
Several large projects, including a $77 million plan to redevelop the Battery Maritime Building, a $200 million mixed use development in Downtown Brooklyn called City Point and a roughly $70 million deal to redo the retail at the George Washington Bridge Bus Station, have tapped what is called the EB-5 Immigrant Investor Program for funding.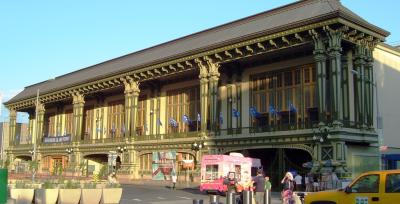 "If you had a 60 to 90 day hiatus that would be bad but it wouldn't be as bad if it went into the New Year and congress still hadn't renewed it," said Steve Polivy, a partner at the firm Akerman Senterfitt who oversees its real estate department and has structured several major EB-5 transactions. "You would have projects that were partially funded that can't proceed and suddenly they have to go out and find alternative financing and they're scrambling."
EB-5 visa recipients may also be forced out of the country, Mr. Polivy said.
"The investors in these deals are given a green card and they have a temporary visa in the meantime," Mr. Polivy said. "If a project doesn't move forward then those visas are cancelled."
The legislation in question specifically allows designated organizations called regional centers to issue job projection data for a real estate development project to U.S. Customs, which must approve the development in order for its overseas backers to receive their visas. Mr. Polivy said the regional centers are essential in structuring an EB-5 transaction because they substantially streamline the evaluation of a project's economic impact.
"It would be effectively impossible for a large scale project to go in an tally every single job it creates," Mr. Polivy said. "You need regional centers to do these deals."
According to Mr. Polivy's colleague, Rick Spees, who chairs Akerman Senterfitt's government affairs and public policy practice group, the legislation has stalled even though it is has little direct opposition because of sensitivity surrounding immigration issues, especially in the wake of President Obama's decision not to expel illegal alien minors in recent weeks.
"There is overwhelming support on Capitol Hill for this, they strongly support it," Mr. Spees said. "This is incredibly uncontroversial but immigration just can't get through Congress or the Senate right now."
Mr. Spees gave the EB-5 legislation a fifty-fifty chance of being renewed by the September deadline.
Several projects could suffer Mr. Polivy said.
"City Point is not fully funded and neither is the bus station," he said.
EB-5 financing is attractive because it provides developers with higher leverage levels than they would otherwise be able to source from a loan from a private lender.