Imperium Buys Williamsburg Building
---
---
Imperium Capital, a real estate investment company, has acquired a roughly 16,000-square-foot building in Williamsburg for $3.4 million, the company's principals revealed to The Commercial Observer. The firm bought the building in partnership with Great Point Properties, another investment firm.
The property, 174-180 North 11th Street, sits on a parcel that can accommodate about 36,000 square feet of development the firm's executives said, though they said they plan on operating the existing building there for the foreseeable future in large part because of its retail space.
"We are very bullish on Williamsburg, especially the northern end near McCarren park," Sam Schneider, a managing partner of the company, told The Commercial Observer. "We love that area specifically for residential and retail."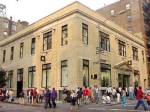 Imperium, which Mr. Schneider operates in partnership with Daniel Glaser, is probably best known for owning 103 Prince Street, a building that is home to a popular Soho branch of the Apple store. That property is in the midst of a roughly $20 million renovation that is being done by Apple to refurbish the retail space.
174-180 North 11th Street has about 10,000 square feet of retail and 6,000 square feet of space upstairs that Mr. Schneider and Mr. Glaser said is predominantly used as office space for small commercial tenants.
The building could eventually be replaced with a larger structure Imperium's partners said that would likely be a residential project with retail space.
"There is a lot of options with it but we're happy how it's positioned right now," Mr. Glaser said. "If the market contiues to grow the way that it has, retail will only get stronger and we're happy to wait it out and see what the future holds."