Stuart Weitzman Struts to 625 Madison Avenue
---
---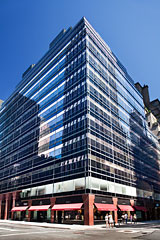 Stuart Weitzman, the high-end footwear company, is moving its corporate headquarters from 50 West 57th Street to a third-floor office space at 625 Madison Avenue.
"They wanted space that could be designed to accommodate showroom, offices, marketing department, design studios and back-of-house functions as well and enabled interaction amongst the various disciplines to strengthen corporate culture," Laura Pomerantz of PBS Realty and broker on the deal commented on the motivation behind the move, "Their Madison Ave store is on the ground floor of this building so that was an added attraction."
Stuart Weitzman will occupy 37,200 square feet of the 570,000 square foot building for the next ten years. The asking rent was $75 per square foot.
In addition to Laura Pomeratz, John Brod represented the Stuart Weitzman. SL Green Realty Corp., the landlord, was represented by in-house broker Larry Swiger.
The building boasts notable tenants like Ralph Lauren, and Centerline Capital Group. There have been a few shifts and changes in tenancy, however. Dating from last year, Centerlien Capital Group was interested in terminating its lease early and moving to 100 Church Street, a building that is also owned by SL Realty, which was supported by Ralph Lauren's offer to move to Centerline's office.
In addition to the two buildings, SL Realty owns over seventy properties in the New York metropolitan area.