Upper Manhattan Buildings Hit the Market
---
---
Massey Knakal is marketing a large portfolio of residential buildings in upper Manhattan for around $65 million.
The five buildings, 601, 605, 607 and 609 West 137th Street, comprise the whole block front on the north side of West 137th Street between Broadway and Riverside Drive in the neighborhood of Hamilton Heights.  The properties are owned by Extell Development.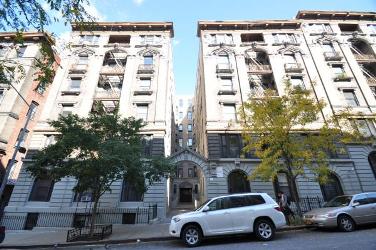 Robert Knakal, the brokerage company Massey Knakal's chairman, and Rob Shapiro, an executive there, are leading a company team that is representing Extell.
The portfolio, which is called The Westborne, has 182-units, 84 of which are rent stabilized. 13 of the buildings' units are rent controlled and 85 are market rate. According to a Massey Knakal brochure on the properties, capital improvements have been made, including renovation of the properties' common areas, lobbies, elevators and mechanical systems.
The information released by the company put the portfolio's yearly income at $4.725 million.
Mr. Knakal has been actively selling portfolios in recent months. In January, he closed the $40 million sale of five buildings located in Jamaica and Hollis, Queens. That portfolio, which included 350-units, was acquired by Zara Realty from the large residential owner Urban American.
Last month, Mr. Knakal also handled the $53 million sale of 17 Manhattan buildings to a New Jersey real estate company called Treetop Development. According to reports, 16 of the buildings were on the Upper West Side and one was in Morningside Heights. 80 percent of that portfolio has stabalized rents. Institutional investors The Pinnacle Group and Praedium were the sellers in the deal.
In an interview with The Commercial Observer earlier this year, Mr. Knakal projected that 2012 would be his best year ever in gross sales, a lofty projection that has so far appeared on track. His apparent focus on large portfolio deals has helped him tally up impressive numbers so far.
"So far I'm on track to my biggest year yet," Mr. Knakal told The Commercial Observer then.
Dgeiger@observer.com
601 West 137th Street
,
605 West 137th Street
,
607 West 137th Street
,
609 West 137th Street
,
Massey Knakal Realty Services
,
Morningside Heights
,
Pinnacle Group
,
Praedium
,
Rob Shapiro
,
Robert Knakal
,
The Westborne
,
Treetop Development
,
Upper Manhattan
,
Urban American
,
Zara Realty