Newmark Knight Frank's Jeff Gural Places Bet on Off-Track Racing
---
---
A bill introduced to the New Jersey State Legislature Tuesday could allow Newmark (NMRK) Knight Frank's chairman Jeff Gural to lease a potentially large retail space at the American Dream Meadowlands, the three-million square-foot mall and entertainment complex being built in East Rutherford.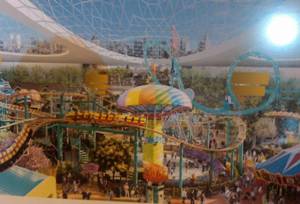 Mr. Gural, a race fan who is trying to lease the nearby Meadowlands Racetrack, would use the space to simulcast races and as a facility to place bets. Assemblyman Ron Dancer, who drafted and submitted the bill, said the space would give the racetrack a more visible platform and could significantly boost revenue while also hopefully perking interest in the sport of horse racing, which has been dwindling in recent years.
"It's a great way to expose the sport," said Assemblyman Dancer, who is a former competitive horse trainer and racer himself and whose family has long been involved in the sport. "Even though you can hear the hoof beats of the track nearby, most people these days don't set foot there. By bringing a simulcast facility to the American Dream mall we're bringing the racing to the 50 million or so visitors that the mall's developers expect will come."
The bill only sets the legal groundwork for a deal between Mr. Gural and Triple Five Group, the mall's developer, though Assemblyman Dancer said he expects the two sides to enter into talks to strike a lease.
The space would essentially be a modern off-track betting facility with multiple viewing screens and tellers where patrons can wager bets.
It's not clear if Mr. Gural will even be able to lease the race track.
In October, his bid to lease the facility from New Jersey was stalled in court over a dispute with the union that represents the track's tellers, who have balked at Mr. Gural's plan to cut wages there.
Mr. Gural could not be reached by press time for comment.
DGeiger@Observer.com